More useless advice from generic experts...
12/08/11 12:51

Over twenty years ago, when I was drafted into the Autism Wars, I could not believe how little was known about autism and how few autism specific resources existed. Almost everyone seemed to lump children with autism into a category of children with special needs or those who were "intellectually challenged" (back then the term was not as enlightened). It became instantly apparent that the knowledge base and supports for those with special needs were not a good fit when it came to children with autism.

Well..., today I awoke to "groundhog day the movie"... Only now we're talking about transition from high school to work and we are getting the same tired advice from the
same generic books ...
as regurgitated in new articles and blogs.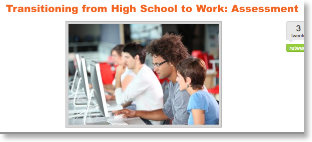 Today's article refers to the IDEA (Individuals with Disabilities Education Act) stipulation that a transition plan needs to be in place by age 14 in order to successfully transition students with autism, "potentially", into a work situation. There is lots of talk about how a comprehensive vocational assessment must be conducted, etc... Then we're supposed to rely upon the school district's transition services and we're told that the parent needs to be an integral part of the transition team.


PROCESS, PROCESS, PROCESS... but what about OUTCOME?????


In order for me to have any respect whatsoever regarding these experts who love process, but don't actually want to be held accountable for outcome, I need these questions answered:
1) What percentage of your students with autism have transitioned into paying jobs in total?
2) What percentage of the students with paying jobs graduated from the regular education system?
3) What percentage of the students with paying jobs graduated from the special education system?

SHOW ME YOUR DATA!

I doubt very much that 1) anyone is taking this data, and 2) if they are, the percentages are abysmal. I would very much like to be wrong about this; however, until someone can provide me evidence to the contrary, why don't we just admit it:

The truth is that we are making it up as we go along and that people with autism who graduate from the school system are, by and large, not successfully integrated into the job market! Why, you may ask, am I so critical about people trying to help. They're just doing the best they can. Yes, that's true, but they need to be honest! The first step to solving a problem, is recognizing that the problem exists.

PROBLEM: WE HAVE NO SYSTEMATIC WAY TO EMPLOY PEOPLE WITH AUTISM WHEN THEY GRADUATE.
SOLUTION: PARENTS & EXPERTS, LET'S GET CREATIVE!